Services Concierge based in Cheshire
Need a leading services concierge? We're at your service!
Our service concierge area is focused primarily in the North West, however we do have clients located throughout the UK in Surrey, The Midlands, Somerset, Devon and Cornwall, to name but a few.
We also provide a travel service concierge to The Forces out in Germany; we provide their travel solutions when they are on leave, and wanting to return home.
Contact CanDOO Concierge today, to see what our services concierge CanDOO for you!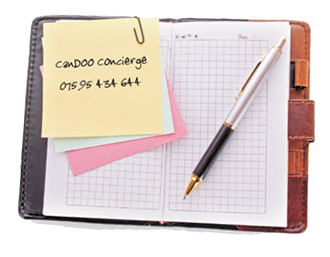 CanDOO Latest News
We're delighted to be the official supplier of Concierge Serivces to the Witton Albion Junior Football Club. If you're local to Northwich, and you ...

Wow, what an accolade! CanDOO Concierge has been chosen by the renowned 'Good Web Guide' as being one of the best Concierge sites in the UK. We're ...

Exciting News Just In! Bar a HUGE newsworthy item coming in overnight, Lisa Forbes, our CanDOO Concierge D ...

20% Off
Sign up to our FREE e-newsletter and get 20% off your first booking

Please wait, we are validating your email address...