Concierge Errand Running Service
Can't be in two places at once? Need more hours in the day? Don't let your time-consuming errands eat into your free-time.
Through our dedicated Concierge errand service team, we can:
drop off
sign for
collect
return
pay for
stand in line
order
deliver
Our Errand Running Service will...
Our errand service will save you time, leaving you free to concentrate on the important things in life.
Business Concierge Errand Runner
CanDOO Concierge also offers a leading business errand runner service - saving your business much needed time, money and stress!
Please note that at the moment, our Concierge errand services are only available to clients living in Cheshire. However more areas will be added in the future. If you have any questions or queries, please don't hesitate to get in touch with the CanDOO Concierge errand service team (via our Personal Concierge Service)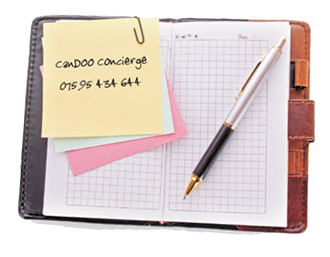 CanDOO Latest News
We're delighted to be the official supplier of Concierge Serivces to the Witton Albion Junior Football Club. If you're local to Northwich, and you ...

Wow, what an accolade! CanDOO Concierge has been chosen by the renowned 'Good Web Guide' as being one of the best Concierge sites in the UK. We're ...

Exciting News Just In! Bar a HUGE newsworthy item coming in overnight, Lisa Forbes, our CanDOO Concierge D ...

20% Off
Sign up to our FREE e-newsletter and get 20% off your first booking

Please wait, we are validating your email address...